Should have updated this one a few weeks ago, so I'll just do the one big update to bring you up to date on how the car is going.
After the initial re-tune after purchase I took the car down to the motorplex on the 20″ street tyres, best et for the night was an 11.029 @ 205.54kph. Most of the launches were done with 2nd gear to prevent wheel spin, so 60 foot times were nothing to write home about.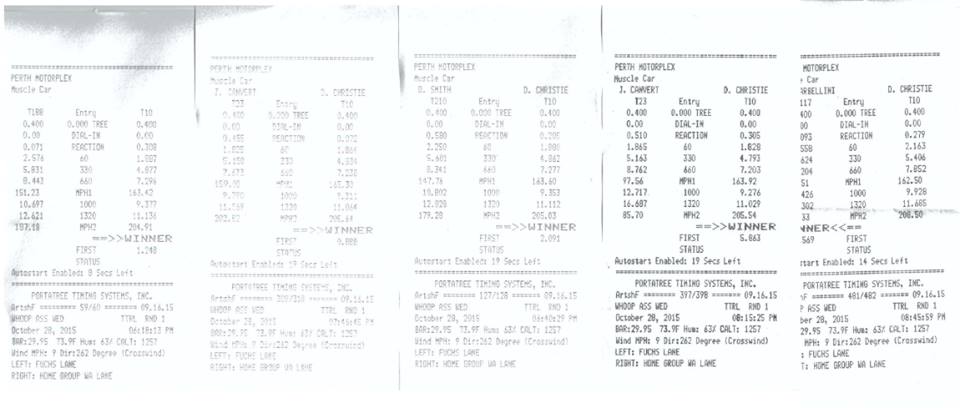 A week or 2 after racing the car on the street tyres, I put on my Racestar drag rims/slicks and took it out for another night of racing.


With the slicks on, the car ran 10 second passes consistently. Except the car was badly hesitant off the line on the launches which i knew was because of fluid rushing to the back of the transmission pan.
In the end i got about 5 runs all up with the best being a 10.713 @ 208kph. In the below video you can hear the hesitation just before the 1st shift into 2nd gear.

The following week I took the ute back down, this time with an additional 2 litres of fluid in the transmission and my 4 piston brembo's on the front of the car (mainly to help with holding the car on the line when stalling up and because stock ve brakes are shit).
This dropped the car's et by .200 of a second and made it do consistant 1.5 – 60″ footers and run a new pb of 10.57 seconds.

So that's it for the 1st big update, the car is now back on it's 20's until I upgrade the injectors, add Flex-fuel sensor for running E85 & increasing the boost.
06/07/2016 No More updates on this car, I've now sold it as I have another project I want to finish off.