Do you have a MY13 onwards RG Colorado Utility or Colorado 7 \ Trailblazer wagon? Want an additional 25-40% power increase for towing or all out HP, while still having improved fuel economy for daily driving? I have you covered.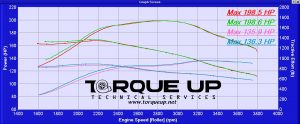 Included for free is an updated transmission calibration for automatic owners (gear shift & torque converter lockup speeds) & I'm happy to work with you to customize your own shift strategy if you have changed rims/tyre profiles at no additional cost.
Just like a late night infomercial, but wait there's more.
Utilizing the latest Efilive DSP4 Operating system upgrade, you can have switchable tunes! you can flip between power levels on the fly, along with adjustable idle control for those times you want some additional rpm such as using a winch or jump starting another vehicle. All can be done remotely via your phone or tablet.
Pricing:
"Dura2Max" Tune = $900
"Dura2Max" DSP4 = $1000
Add the Display tablet for either of the above tunes for only $400. A $100 discount off the regular price.
Fleet Pricing
Do you have a fleet of Colorado's & want to put in speed or abuse limits to prevent employee's from abusing the vehicles. That's possible too! Contact me to discuss your needs & we can work out a deal!